Tachileik, Myanmar Guide -- Near the Golden Triangle
The border between Thailand and Myanmar is a narrow stream. It's widely reported that Burmese wade across the stream but are tolerated on the Thai side as long as they return to Myanmar before sunset and are not in huge numbers.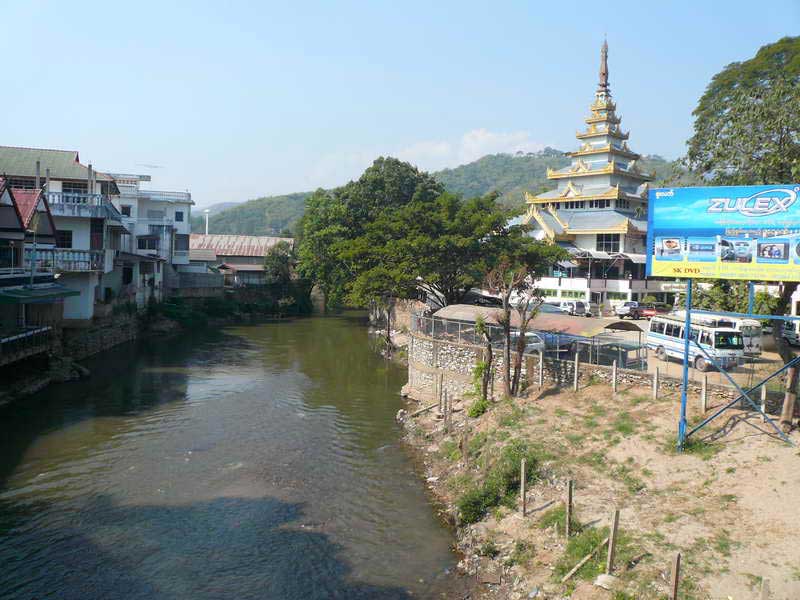 Thai immigration is on one side of the bridge and Burmese immigration on the other, with the bridge being a no man's land.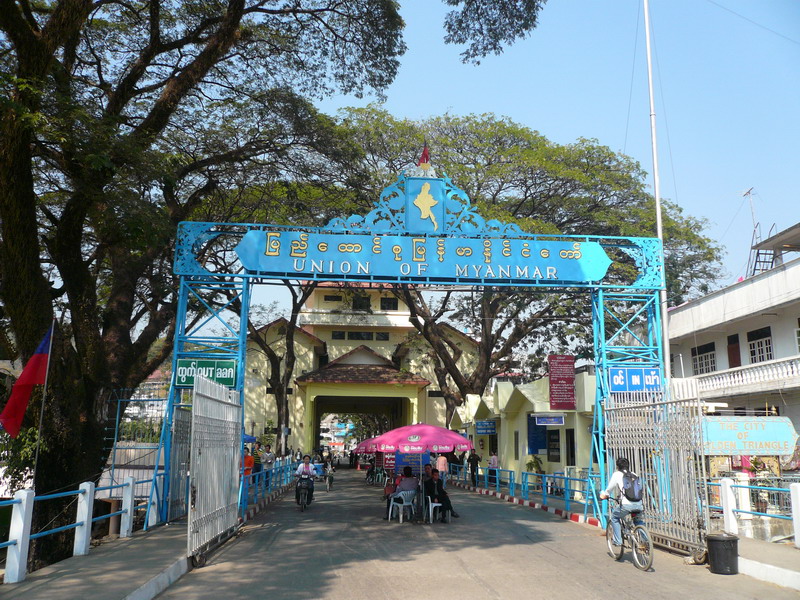 Strangely, when you enter Myanmar, you must leave your passport with the Burmese immigration office there, whereby they give you a computer generated pass with your information on it. You pick up your passport when you return to leave Myanmar. You can stay inside Myanmar up to 14 days. The officials are pleasant.
When you go inside, right next to the immigration room is a travel agency. This is the only one I saw in all of Tachileik so if you want assistance, don't miss it. They seemed nice and helpful but low capacity, and it looked like a long wait, plus I had nothing to ask, just wanted to look inside Myanmar and maybe come back after I got my bearings. Be sure to pick up a map of Tachileik if they still have them in stock.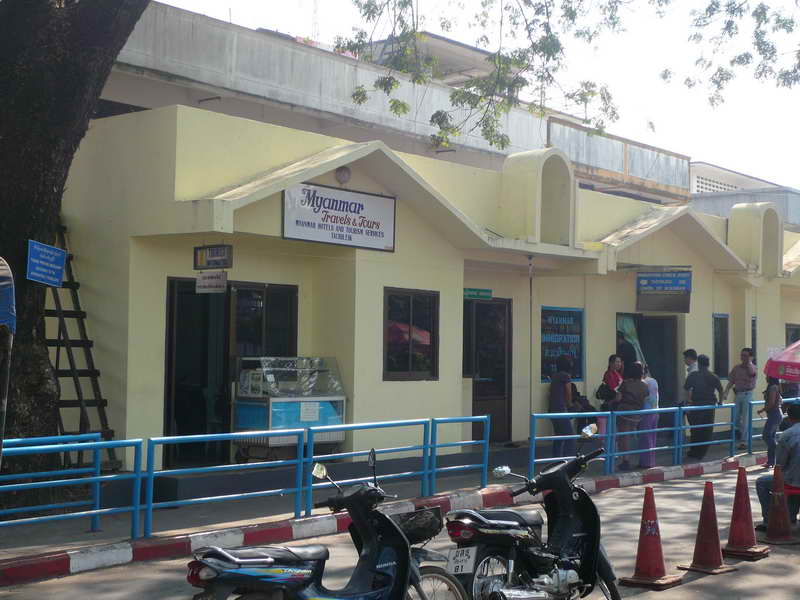 The currency of the town is Thai baht moreso than Myanmar money, and US dollars are also accepted. I never saw Myanmar money change hands, only Thai baht prices were displayed even well inside Myanmar, and everyone talked in Thai baht, including between Myanmar people.
There are lots of signs in Myanmar that are anti-drugs, such as "The fight against drug menace is a national cause" and urging people to turn in child sex tourists. Yet, immediately after you exit Burmese immigration on the other side of the bridge, there are touts who try to sell you viagra and "go lady boom boom". Granted, viagra is not a narcotic, just adds stamina to a guy's stamen, but it's remarkable they're selling pistil when you walk in. It also makes you wonder whether "ya ba" (amphetamines) or "ya E" (ecstasy) or even opium are just a little further down the menu. I never saw any police or soldiers or anything like that in Myanmar.
As a guy, you must walk past a few of these touts in your first 100 meters inside Myanmar. They also try to sell you DVDs, and after you brush them off they offer mating content. (Zoo keepers will confirm that homo sapiens is the only species that reacts to watching others on video.)
In the morning, there are a lot of tour guides (as I saw the next day), unlike in the afternoon when your guidance ends after you pass a single shop right next to where you leave your passport, so I guess they run out of willing and able guides early each day.
Immediately on the other side of the bridge is a sizeable market selling clothes, electronic goods, and lots of odds and ends, including strange things like animal horns reportedly from endanger species, and the Iraq War deck of cards. I went thru the market briefly, then headed off the beaten track.
All the above I had read on the internet and been told about by other visitors (except for the passport confiscation). However, by all accounts, it is actually a safe town, and a safe country, even if you go well within and all the way to the Chinese border. You can also sometimes go into China a short ways for a little while, depending on the mood of the border officials.
I had planned to stay just a couple of hours, but I ran into a few Americans who had stayed overnight, one guy several days buying odds and ends at the markets.
There are no tour agencies on the road. It was very difficult to even find a map. Eventually, someone guided me to a photocopy place where a lady dug around on a shelf and eventually found one -- a rough hand drawn map. It turns out that this is THE map of the town, because I saw it posted up in several other places spread around during my trip here. You can click on the map to see it full size, and thereafter click on the full size map to download it.
Public transport consists of groups of motorcycle taxis with colored vests just like in Thailand, and a kind of "bus" which in Thailand we call as "sawng tao" (two seater) where you get in at the back and there are two row seats facing each other.
I eventually took my map to a motorcycle taxi and showed him where I wanted to go. This included the hilltop temple, past a golf course, down some main city streets, and then an outlying area. I was informed that I was not allowed to go to some areas as a foreigner.
It's not a crowded city. Here's a photo of the main road just a few hundred meters in.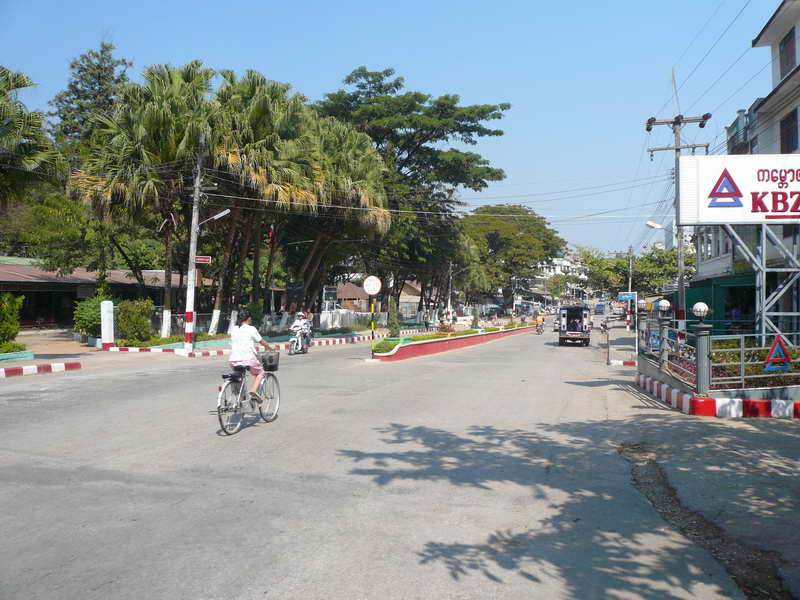 Here is the city from the hilltop temple: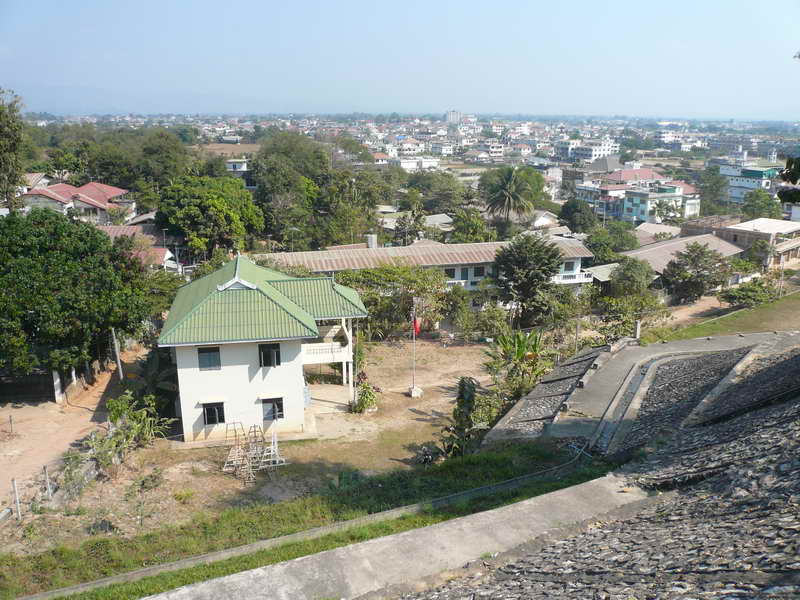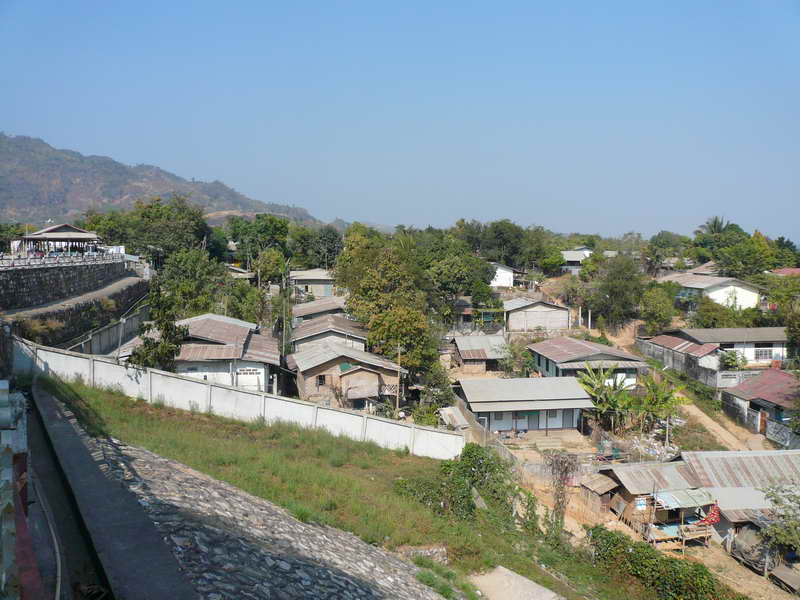 There are mountains around the city: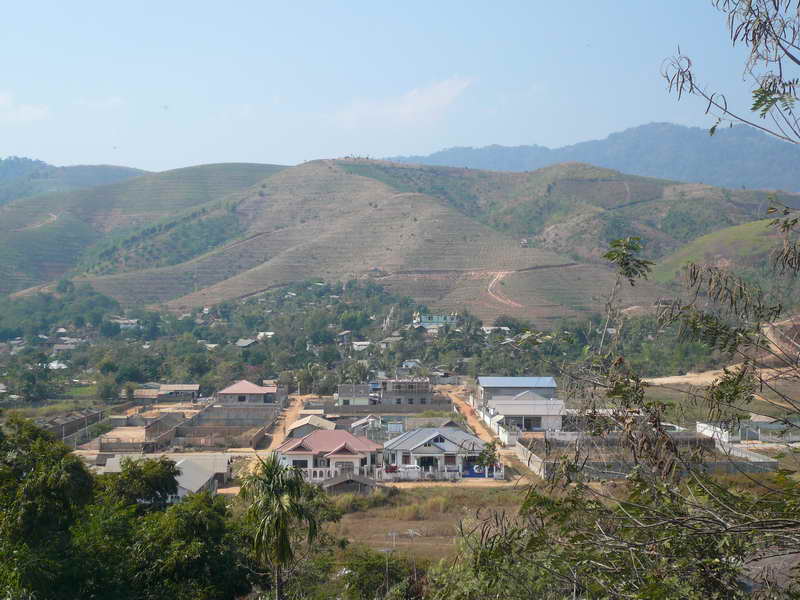 The temple was getting its last touches of construction, so I will show that from a distance, as it was lit up at night until 10pm: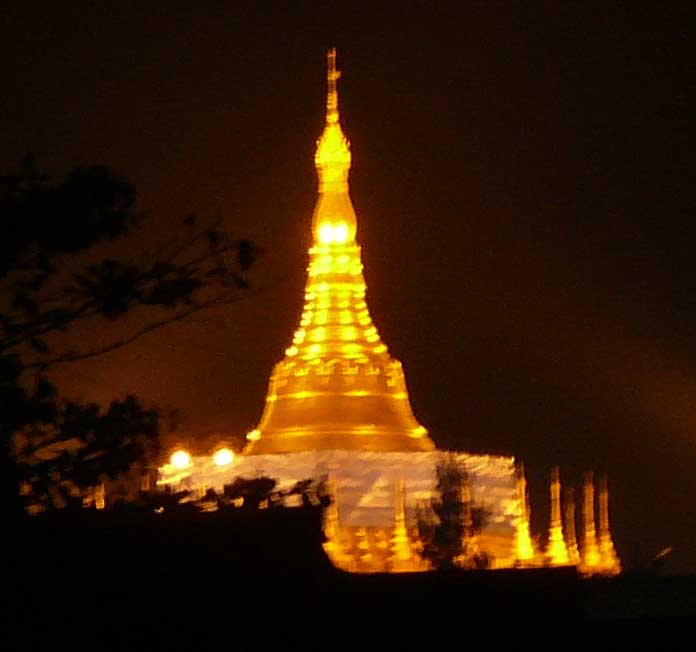 Here's a place along the periphery during the daytime: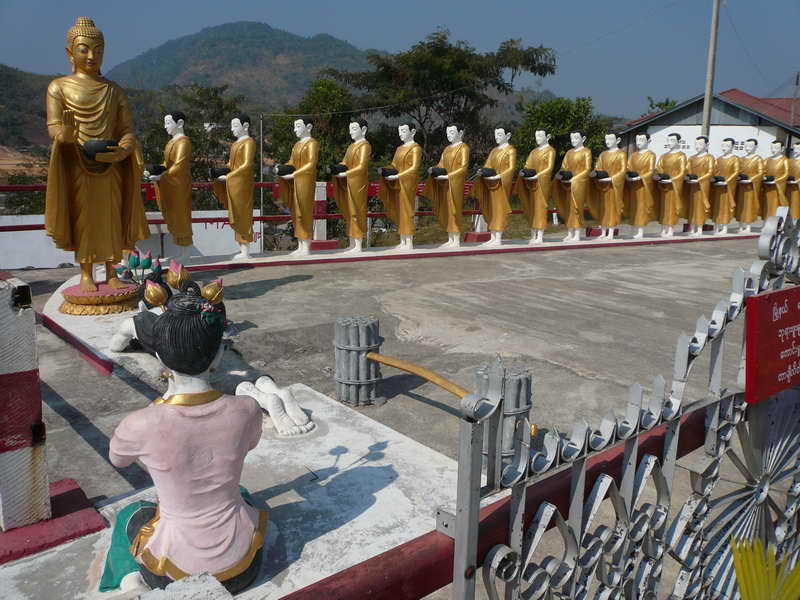 We went on a paved road around the golf course, which was dry and not all that well kept but quite adequate. No sign of any foreigners.
Then the motorcycle drove past some farmers tending their crop, and up the hill thru a neighborhood where we drove past some homes and a couple of schools ...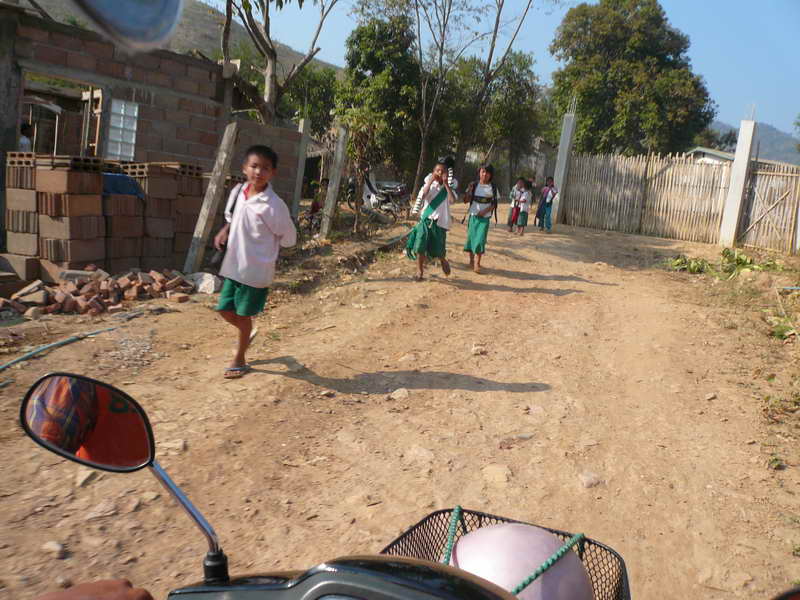 There was quite a bit of construction going on in the suburbs.
The main road is paved and good, but not many side roads were paved, though the quality of the dirt roads was good.
There is one part of town that seemed to be the nicest. It had something called the "Tachileik Township Dhammayon", whatever that is, but it was unoccupied ...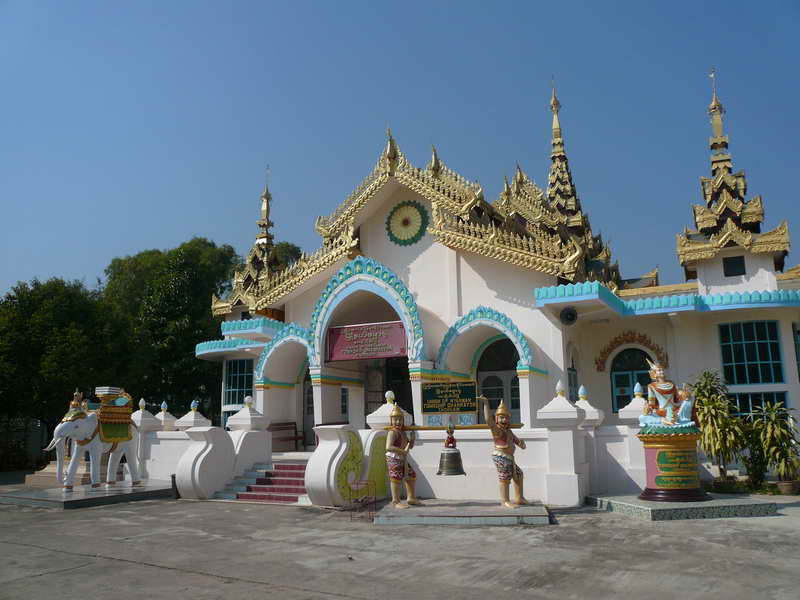 ... and near it was an office which was called "Internet and Email Service Center" though there was nothing inside the building on the ground floor, though it didn't look new at all, and they didn't look happy about me taking a photo ...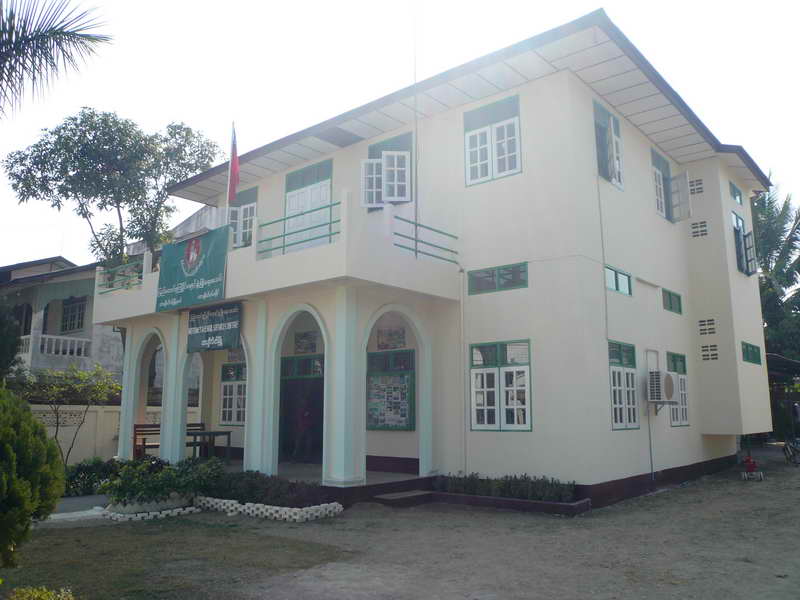 ... and there was another, similar building down the street which was a small library that claimed to offer internet but it couldn't be found, though there was a small library room with a few people there. I didn't want to take a good photo after getting the looks I got at the Internet and Email Service Center, as I didn't want to risk a hassle with my camera or all my photos.
Nearby was a hotel with ADSL internet offered in the front, with about 10 nice new workstations lined up.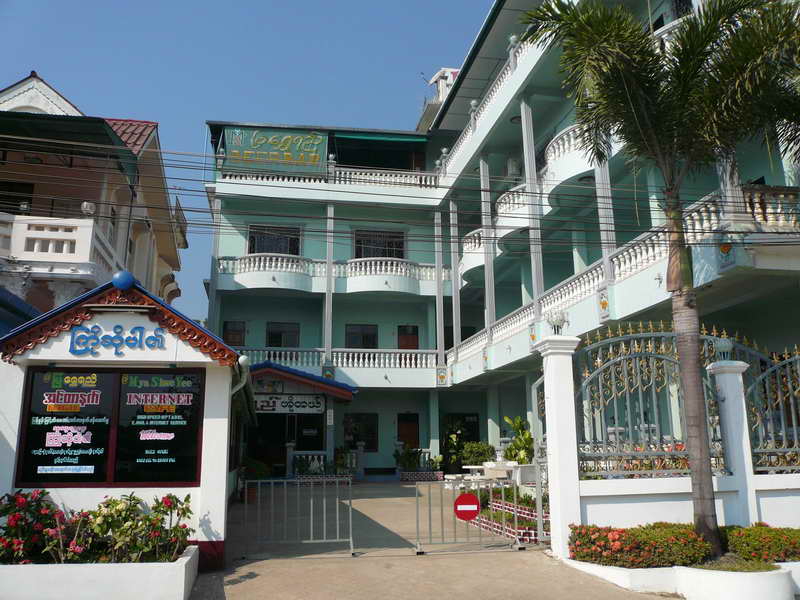 I later found out that internet had come to Tachileik only 2 weeks ago, at that hotel. It worked, seemingly like a 512 kbps connection.
I had a choice of either staying in Mae Sai, Thailand, or else Myanmar, so I decided to do the different thing and stay at this hotel. 600 baht got me a room with fridge, TV, western toilet and hot water shower. Not many guests, except a group of Asian guys.
They show that they pay attention to electrical safety -- as well as biological safety, with a pack of complimentary condoms mounted on the wall right next to the light switch which in turn is next to the electrical safety switch, all next to the door.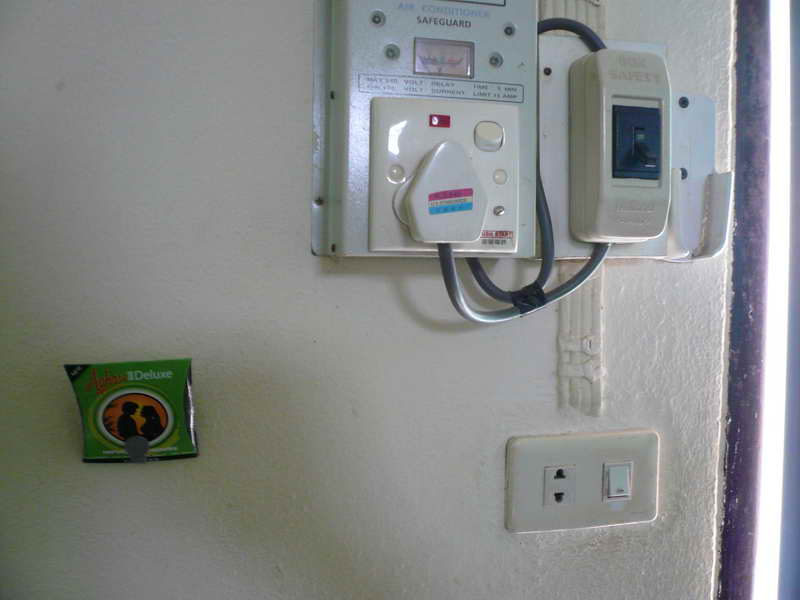 In the evening, I went to a restaurant and ate some Burmese chicken curry, and it was one of the tastiest meals I've ever eaten. There were also some new roots and vegetables. I was also served some kind of bean soup which was also so tasty. Plus a pennyroyal salad. Washed down with Myanmar beer, which is good. However, the spicy condiments were very questionable, and I sampled only a tiny bit of each once. Everything altogether was 200 baht (including the large bottle of beer) = $7.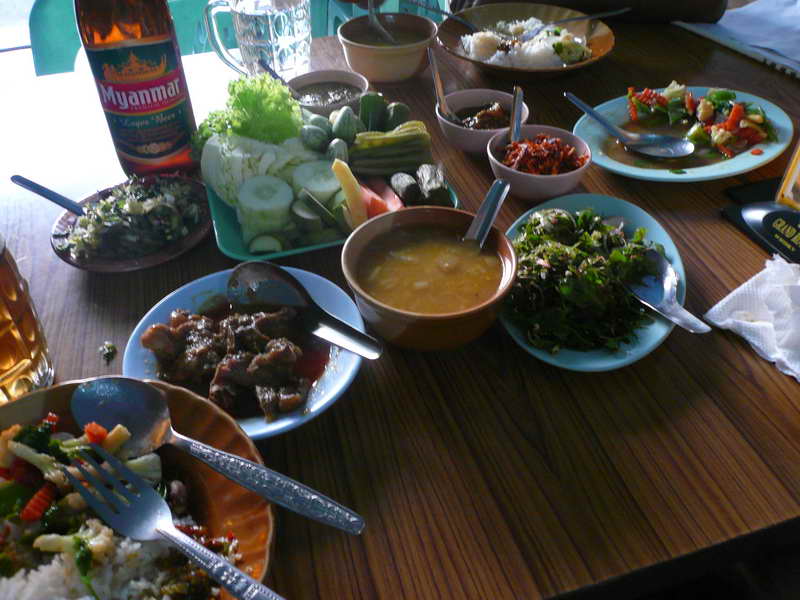 (I got very loose stools later, but not too bad and not for long. No photo of that!)
At night, there were a few karaoke places around the hotel, all innocent. All the Burmese songs are westernized, unlike in Thailand where you hear original Thai music quite often, though there is also the copycat western pop style.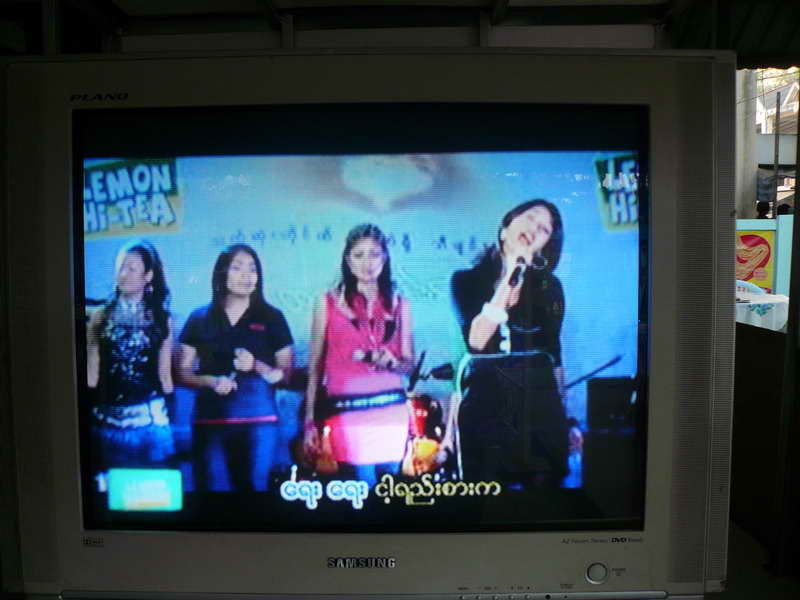 Everywhere I went, there were advertisements for "Lemon Hi-Tea" like that was the predominant pop drink in town. There were also a lot of tea houses. I guess those are the cutting edge social places to be.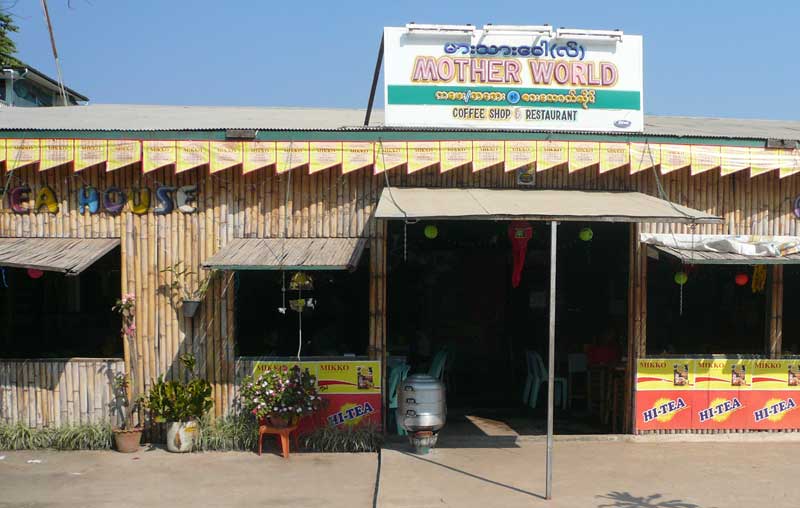 I was recommended to a nightclub down the main road, which turned out to be very modern, with nice fluorescent decor, laser lights, and great sound system, not too loud but just right ... but I was the only customer! Lots of waiters and waitresses. A band was also there, but no point in playing for just the staff. My 100 baht cover charge ticket would have gotten me a free beer, but I didn't want to drink any more alcohol that night, and after sitting there about 10 minutes, I left. It was just too surreal. I felt so sorry for their business.
You can see the stars in the sky clearly from here.
I did not see another foreigner my whole time that day, once I left the market area next to the bridge.
I headed back to the hotel at 9:30pm, and was asleep by 10:30 ... until the Asian foreigners kept waking me up because they were outside talking loudly, so inconsiderate. They apparently were not happy that the city closes early (I was told to expect 10pm to 11pm) and decided to take their party back to the hotel. So I woke up and wrote this over the next hour. Eventually, they went back to sleep, and so did I.
Notably, at one point on the main road, a Burmese guy came up to me and spoke in pretty good English, like just trying to be friendly, walking along with me, asked where I'm from, and then he told me he is Christian, that Jesus is the one and only way, not Buddhism ... and I cut him short and told him that there's not only one way, and in fact I like Buddhism better than Christianity. There was something odd about this guy, so I jumped on the next public bus and left him behind.
I also met an Indian guy whose English was excellent. He was 4th generation Burmese, from when the British took his grandparents to Burma in 1885. He is still Hindu, and his family predecessors had continued to marry within the Indian community in Burma so that he was still 100% Indian by blood, but a Burmese citizen. He even retained that peculiar Indian accent. He was the one and only person who resembled anything non-Burmese during my entire excursion past the 100 meter mark beyond immigration.
Anyway, the next morning I just headed back thru the border, dropped off my postcards, got my passport back, and went into Mae Sai for my morning tea and internet email check.
Actually, I had stepped in and out of Burma before on a short visa run in southern Thailand, to the southernmost point of Burma called Victory Point, but that was a very brief step across the border because I went on a half-day visa run tour van which took care of everything, the one and only time I have ever used a visa run service, and probably the last time I ever will. The intention of everyone on the van, and the operator, was a quick dash out of Phuket, step over the border for a minimum of time to get an updated stamp in your passport to stay in Thailand another 90 days, and then dash back to the same old hangouts or routines.
I much prefer taking my time, and usually travelling alone on public transport.
While having brunch, some of the other guys there were on short visa runs, just stepping over the border, checking out the market, then coming back. One was clearly staying more than the 90 days out of 180 days allowed for tourists in Thailand, a new regulation passed in October 2006 and strictly enforced at first. He said that they just stopped enforcing it, except against suspected troublemakers. However, he hadn't crossed into Burma yet to prove it. He was just planning to. Nonetheless, he wasn't the first person who told me that it wasn't being enforced. On the other hand, it still goes contrary to what I read on the internet on some popular message forums.
I headed out to the mountains right after that, but a couple of days later returned to Mae Sai to return my motorcycle. While watching over the river one last time, a door opened on the Burma side and a guy came out and dumped the contents of a trash can into the river, what looked like mainly plastic bags and styrofoam containers. Then, a few minutes later, here came another trash can full. And that was my final image of Myanmar.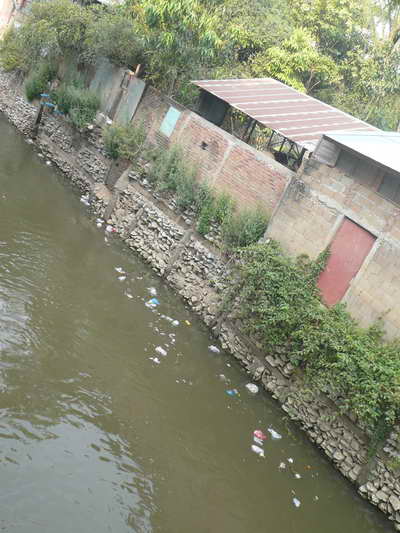 There may be a lack of trash disposal infrastructure and/or education and/or enforcement and/or social pride.
On the bus from Mae Sai to Chiang Rai, the army police stopped the bus and went thru everyone's bags to check for drugs. They were pleasant about it. They skipped me and my backpack for some reason or lack thereof.
-=-=-=-=-
I have a few comments to make about Myanmar. I am no expert on Myanmar, but I learned back in the mid-1980s when I was working in Washington, D.C., that you shouldn't believe the copycat pack mentality of the press about everything ... and many things you should see for yourself.
As you will see here and in my next guide, Myanmar is not a dangerous place for foreigners. I know many highly developed cities in the Western world and elsewhere which are far more dangerous.
Sure, there is no freedom of the press in Myanmar, it's a military dictatorship for a government which rejects democracy, and it's one of the poorest countries in Asia despite being one of the richer ones with a lot of promise in 1960 during the end of the colonial area and the beginning of independence, due to internal power struggles, corruption, and military government mismanagement.
However, when you go into Myanmar, it is just like Laos and Vietnam -- the latter two Communist by name but quite the opposite as regards the economy. Myanmar is a normal, Darwinian market economy. The government presence is difficult to be found. You don't see police or military on the streets, and government offices tend to be vacant and apparently disfunctional. (I will be amazed if my postcards make it to their destinations.)
However, I didn't see starving or stress or anything too sad or terrible there.
It may be a lot worse living ... or wasting away ... in a refugee camp than living in Myanmar today.
I suspect that the press blows a lot of isolated things out of proportion, and that refugee camps have become a sort of welfare state.
Surely, there are many legitimate refugees due to the government trying to subjugate, change and fight the Karen and other minorities in the northeastern part of Myanmar, peoples who have little ethnic association with Burmese in and around the capital, and in fact have a lot in common with northern Thailand and southern China.
However, from my limited views of Tachileik, I can't see life being much better in refugee camps.
Wealth is relative. We are all better off than people 100 years ago, and far better off than cavemen or even hilltribes here just a few decades ago. Development in northeastern Myanmar has come much slower than elsewhere for various reasons, but it's not as if these people are unhappy or stressed out.
The Tachileik area is very poor by our standards, but the people are so pleasant, smile easily and with a gentle sincerity, and don't seem to be suffering. They are friendly and hospitable.
They are not as big as us, but they seem well fed these days. Thais are smaller, too, except the second generation wealthy. It seems to take 2 or 3 generations for wealth to size up as regards the family bodies.
What is poverty?
Access to education, and to what level? I don't know. I saw a lot of schools and school kids running around. The schools were dusty, but they had paperback books, schoolbags, and uniforms. This was out in the hilly suburbs where I was going down impoverished dirt roads. People would yell basic English at me and smile. A lot of people understood my English if I spoke slowly and clearly, so apparently there is a considerable amount of English taught in school. There are some English-only signs for businesses which cater to Burmese. (Of course, so many products there have English name brands and labels to make them look a little bit more international quality or hi-society or a little bit enchanting.)
Access to health care is probably very poor in Myanmar.
In any case, they don't look like people stressed out over their financial situation. If there's a happiness index for this city, it would seem to be fairly normal, and better than some wealthy cities I've seen. It brings to mind the rare foreigners I saw out in Mae Sai, the Germans on vacation with the man tapping his finger impatiently and looking around for entertainment, and his drama queen wife who seemed to get serious over every issue, quite in contrast to the table of relaxed and cheerful Thais next to them.
Poverty is relative.
However, freedom is another matter.
I started to notice that people would look the other way when I took a photo, and generally didn't like me taking photos. These are people who probably never owned a camera themselves, but they know what one is.
I later found out from a Burmese guy that people are afraid of where their photos might show up, because they are fearful of the government.
That's why there are no photos of recognizable people on this page, and no photos of any businesses except the hotel. I left out a lot of photos, which is probably good because I put in too many photos already.
I was also told to never talk about the Myanmar government, because you don't know who might be a government informant in your environment, and it could cause the government to start restricting or contracting the opening up of Myanmar to foreigners, which would adversely affect everyone (except those in power in the Myanmar government).
It is this overriding fear of the government which was so striking to me.
The same person told me that's why business is so bad. People don't market because they are afraid of getting the attention of the government.
This came out when I suggested they market on the internet, because there's no guide to Tachileik.
There is a dearth of tour agencies, too. There are small operator tour guides in Mae Sai and immediately across the border in Myanmar, but not as many or as good as I expected.
Yet, the economy here needs tourism, and has great potential for it due to the Golden Triangle and the land route to China, as well as the nice local culture.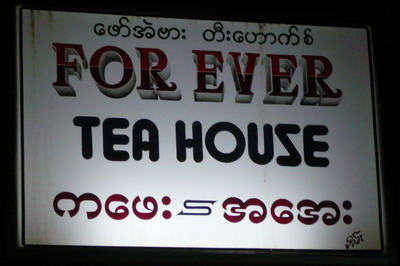 Postscript: This visit and article are from 2007, and I haven't been back since then. I get some inquiries from time to time asking for guidance about Tachileik.
I also am aware that occasionally a website will link to a photo on my site, to display on their website, without my knowledge. I occasionally find out if I notice it in my logs, sometimes as quite a bit of traffic from a particular source. Please don't link to my photos without asking me. I often give approval and don't ask for any money, for some good people and good websites, but I reject some kinds of websites and people. Unfortunately, it's difficult to block some moving targets from continuing despite my efforts to stop them.
---
---
---
If you choose to submit feedback, then I wish to thank you in advance. After you click on Submit, the page will jump to the top.