Vietnam Trip, Hanoi, November 2006
I'd never been to Vietnam, though it's a popular place for expats to visit. Most people to go Saigon / Ho Chi Minh City because it's much more exciting and westernized. However, I wanted to see the core Vietnamese culture, so I chose to go to Hanoi.
At the Bangkok airport, there was a group of typically friendly Australians consisting of some middle aged ladies from Cairns in the line behind me, so I struck up a conversation with them. They were near the end of an Asian tour, and had accumulated a whole lot of excess luggage from shopping. I had packed light. After joking with them awhile, they got an idea. They wanted me to claim some of their luggage to reduce the cost of their excess luggage. This is not something I would normally do ...
Once I arrived in Vietnam, I found the airport officials are fairly relaxed. Everything seems pleasant.
Internet information on-line is fairly poor, so you go with little guidance. Hotels don't answer email.
It took me a long research time to figure out that the tourist area is just north of the lake in the Old Quarter, which is also where the ecclectic shops and western restaurants are. Get an on-line map and get familiar with the streets there. Also, some places west of the lake are OK.
At the airport, I chose a hotel in that region which listed WiFi as the first thing on their list, so I paid more money ($30/room) but when I got there and in my room, no WiFi. I went downstairs and asked, and was told no WiFi. Never mind the airport brochure. There was only an ethernet cable in the lobby. My room was up 3 flights of stairs. No elevator.
Furthermore, the internet table was right next to some equipment with an "x-ray fluorescence spectrometer". People from the jewelry shop in the lobby would occasionally put a item of gold on top of a device, and its composition would come up on a computer monitor. It made me wonder whether I was being exposed to its x-rays sitting there.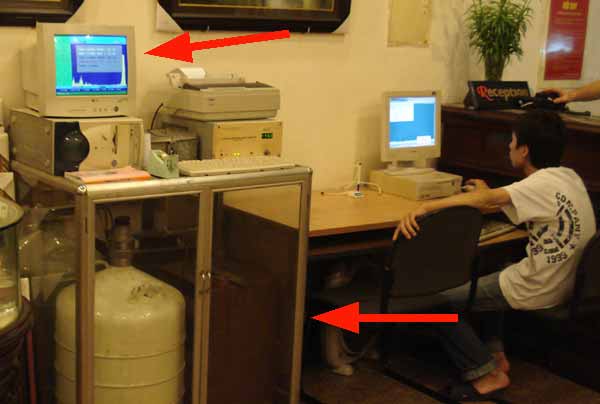 I arrived on the last flight from Bangkok, and arrived at my hotel near 10pm. Even though I was in the tourist area, almost everything had closed down.
On the street, very pleasant people, and it seems very safe. I was in the tourist district.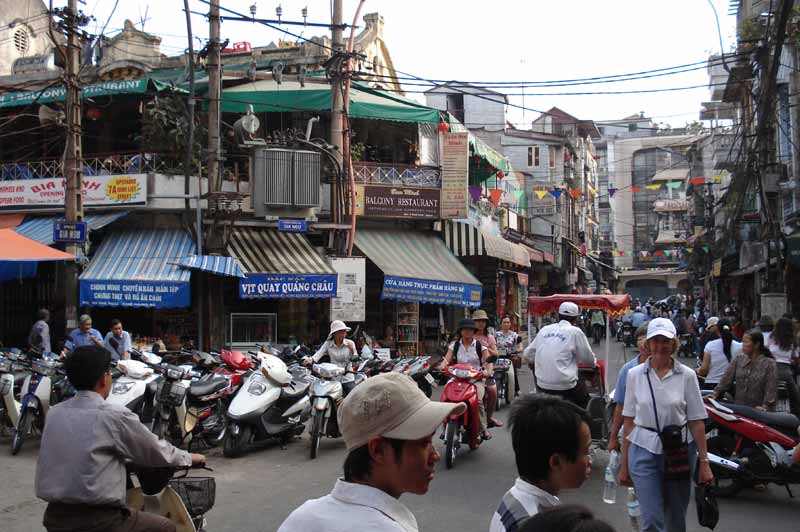 However, too many motorcycle taxis want my business, and too many street vendors don't want to take no for an answer. It is like the tourist traps of Bangkok, but just a little bit more pushy.
No convenience stores like 7-11. Not many mom & pop shops.
The strangest thing is that there are practically no traffic rules. Every intersection has motorcycles, cars, and bicycles entering from every direction at the same time. It seemed like half of them honk their horn as they start to enter the intersection, so you can only surmise that the Vietnamese depend on sound communication as well as visual in who establishes the right of way. It is an amazing flow to watch.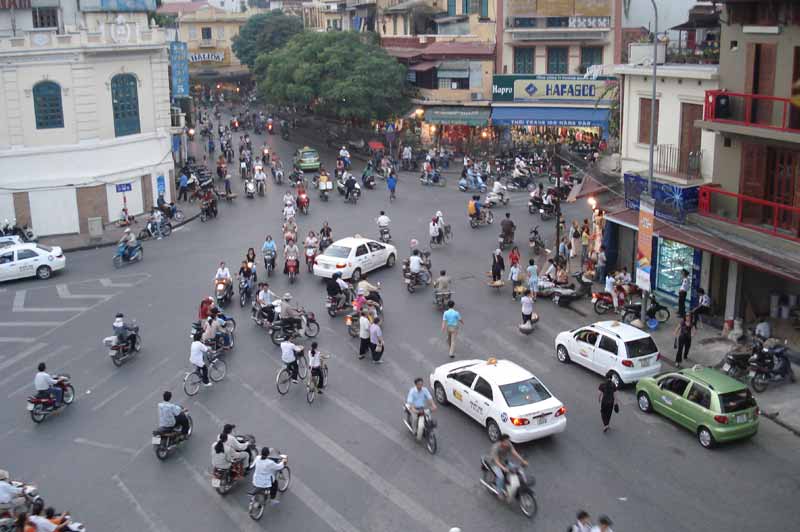 The result is that the noise pollution is bad. At night, fortunately it subsides enough to go to sleep, but you definitely want to be clear that you don't want a room in the front of the building. Even from my back room, I can hear the horns. Fortunately, the cacophany of horns is faint enough to not irritate me or keep me awake.
There are red & green light intersections where the light is totally disregarded. Only a few of the lights at major intersections are honored.
In contrast, the air pollution is low, i.e., the air quality is quite good, as there are very few motorcycles or cars that smoke, unlike in Thailand. Perhaps the polluting 2-stroke motorcycles are not allowed in Vietnam. I don't know.
Pedestrian walking seems quite hazardous, especially crossing the roads, because most people walk across the street right in the middle of traffic! The motorcycles just go on one side or the other of the pedestrian. If you're not good at going with the flow, then it's recommended you wait and cross the street next to someone who does.
Anyway, back to Friday night and my arrival ...
Once I arrived at the hotel around 10pm, I found that the hotel's small restaurant (2 tables, each seating 4) was closed for the night and there was nowhere around with a kitchen still open.
There was one place which many tour guides said was pretty much an obligatory visit, the Apocalyse Now music pub, because it has a Vietnam War theme, with a helicopter sticking out from the wall, helmet lamp shades, etc. It stays open the latest, until midnight, so I figured maybe there was somewhere to eat on the street arond there, and I could watch the young generation. In the hotel lobby I searched for it and wrote down the address. It was the same from a few websites (under the Prince Hotel) but I finally found what part of Hanoi (subdistrict) it is in. So I wrote it down and went out to one of the motorcycle taxis. We went there but it had shut down and there was no sign saying it had moved. However, someone sensed our problem and asked if we needed help. Then they told us it had moved, and pointed us in the right general direction, though they didn't know details.
We eventually found it in a remote part of town, after bouncing off more people giving directions, and it was a disappointment as regards surroundings (it was isolated, not near anywhere else) but it was interesting to watch the Vietnamese. There weren't many foreigners, just a few. It had no Vietnam War decor. Pretty bland. I had a beer and talked with an Italian and a German guy who were friendly.
Never found anything to eat, so I went to sleep hungry.
Saturday, I spent all day walking, countless kilometers. I shopped at the tourist shops selling handmade things, ate Vietnamese food, and hung out around the park. The air quality is good, unlike Bangkok, and the heat isn't so bad, perhaps because it's November and I'm not surrounded by skyscrapers.
All the houses and business properties are very slim and usually 4 or 5 levels tall. Streetfronts have a very narrow tunnel for motorcycles to go thru and enter the center courtyard of the block. I don't see how 2 motorcycles could pass each other in some of those tunnels, and the opening is like a doorway without the door.
I eventually found the main places to eat. There's a strip of restaurants which serve quite a variety of food, both Western and Vietnamese. It is a popular dining area. It also stays open very late at night.
I think I could write a better guide to Hanoi than anything which exists on the web, in a matter of a few days.
The main lake in the best place to stay has several restaurants with terraces. I think the photo below is from the north end but I don't remember for sure if it was north, south, east or west. Anyway, it is a long narrow lake, and only one end has restaurants on top of relatively tall buildings. Looking out over the lake, off to the rightside about halfway down the lake are the late night restaurants.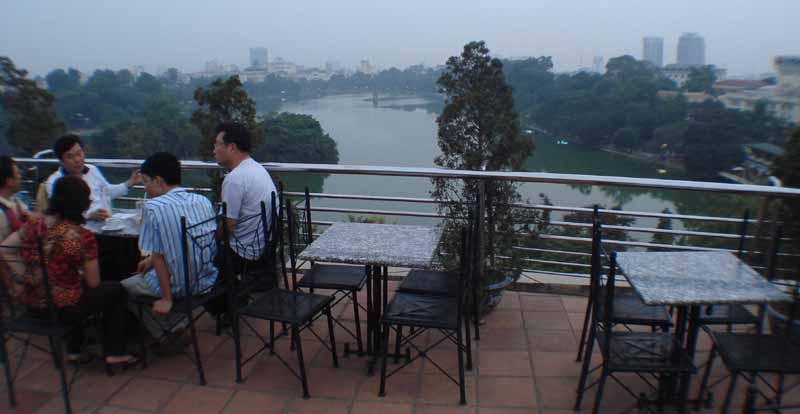 One morning, I found a nice, educated motorcycle taxi driver looking for tourists to take around, and asked him how much to take me way out into the countryside. He thought about it awhile and then agreed and we came up with a price. Off we went.
The road we took out of town is on top of the levee along the river, which is elevated and gave me a better view. Here is a suburb of Hanoi: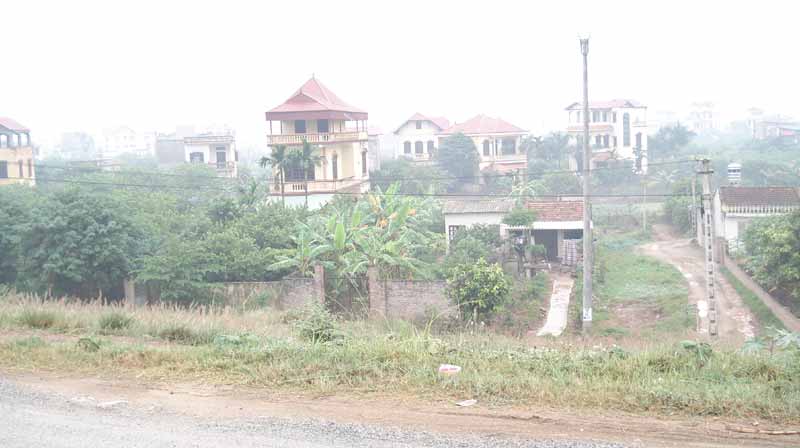 Then we reached the countryside of only rice paddies and occasional cattle.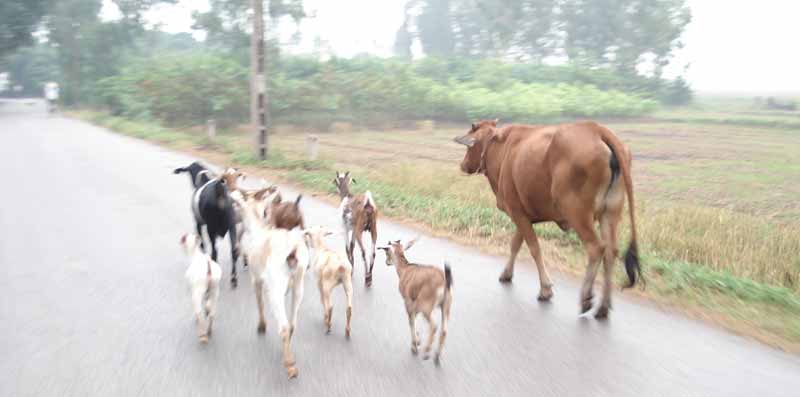 It's the usual very peaceful Asian people, who are a little shocked to see a foreigner out there and give pleasant smiles back.
They eat dogs in Vietnam, and here are two headed for the slaughterhouse: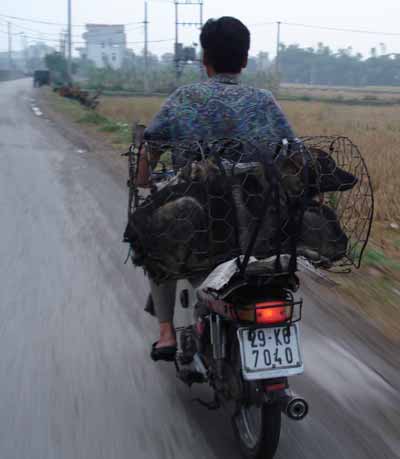 At a tiny town, we had some chicken noodle soup and a beer at a market off a back street. I decided not to try the dog meat on the menu.
Back to Hanoi, a few tourist shops at the end, and then on to the airport.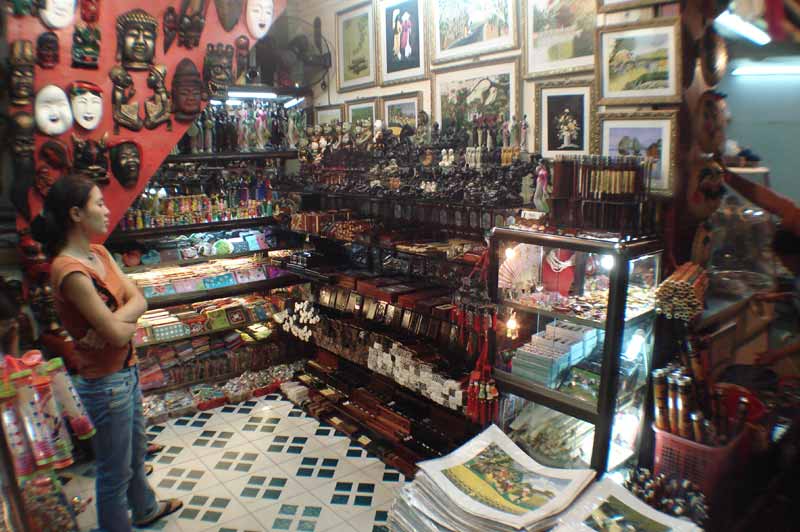 At all the banks at the airport, no exchange of Dong back to dollars, but I eventually found a vendor willing to do so, and this one didn't even take a commission. I tried to round it off to $50 and then give her my spare cash, but she looked confused at me and didn't want my spare cash, so I had to keep the case, whereby it became a souvenir. I was very touched by her honesty in giving me the official exchange rate and refusing any benefit.
Of course, Vietnam is one of France's former colonies in Indochina. Old banknotes are for sale for cheap in Hanoi. I got a few.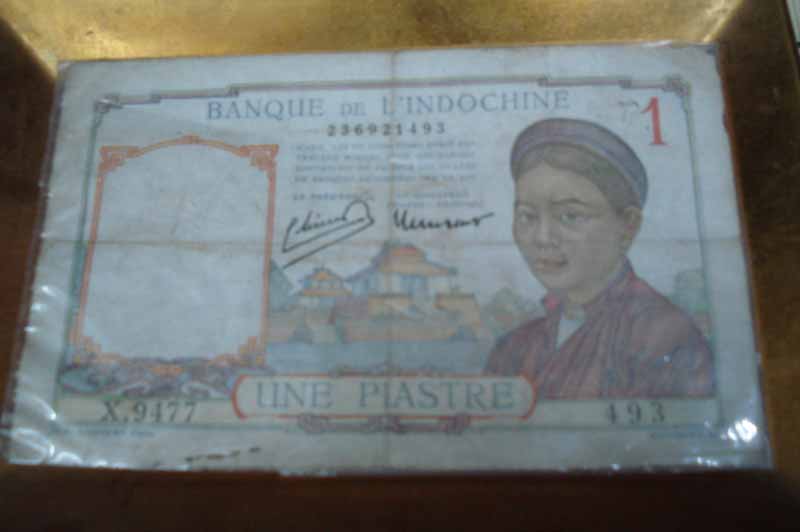 There are modern taxis and buses in Hanoi. The taxi drivers are nice. In the background is the main lake in the area I stayed, which is the recommended area to stay in Hanoi.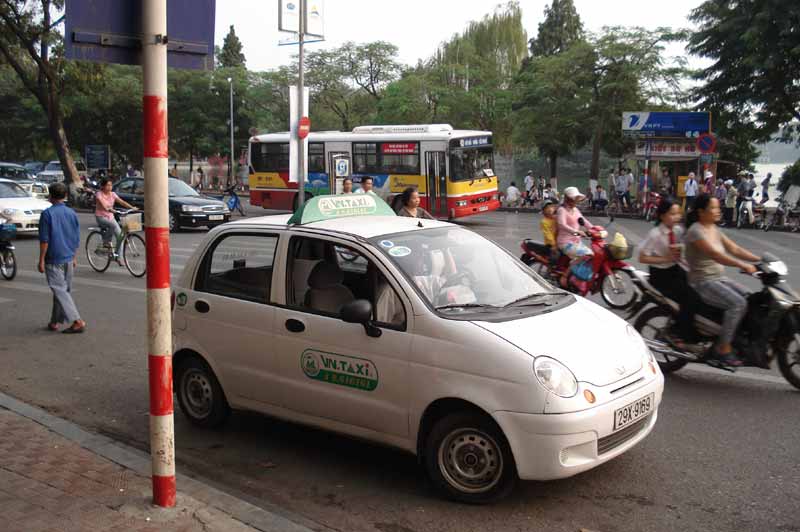 I am amazed that in all my time in vietnam, I didn't see any traffic accident. On the airplane, the Australian lady beside me was talking about the same thing, and she saw no accidents during her stay of several days.
---
---
---
If you choose to submit feedback, then I wish to thank you in advance. After you click on Submit, the page will jump to the top.